Thought Leadership
Articles
Pesticides hit the top sales spot
Soybean pesticide market grows 50% in Brazil to US$11.4 bn

By Lucas Lima Alves
Pesticides hit the top sales spot
According to our FarmTrak farmer panel, soybean planted area in the 2022-23 harvest increased by 6%, exceeding 42 million hectares. The market value of soybean pesticides was ~US$11.4 billion - an increase of 50% compared to the previous period (~US$7.7 billion).
Oilseed rape continued to be the main crop, followed by corn and sugar cane.
In terms of crop protection sectors, herbicides were number one, accounting for 35% of sales or US$4.1 billion, an increase of 70% compared to the 2021-22 harvest (~US$2.4 billion). Historically, fungicides have led the ranking of the most representative agrochemicals in soy.
With glyphosate the most important active in oilseed rape harvest, it is unsurprising to see this account for 60% of transactions within herbicide sales. Price points of herbicides have themselves increased, in part due to the increase in the cost of key molecules.
Specific herbicides have also increased in adoption in soy, such as pre- and post-emergents. These narrow sheets increased 46%, in 2018-19, to 77% in 2022-23. Increased resistance and stubborn weed challenge such as bitter grass and chicken foot grass has also led to increased popularity of pre-emergent treatments, rising in use 45% from 34% in 2020-21. These products create a 'film' over the soil, preventing weeds from sprouting and in turn controlling the latent seed bank in arable or recent grassland.
Market Importance - Regions
Total Market – Soybean 2022/2023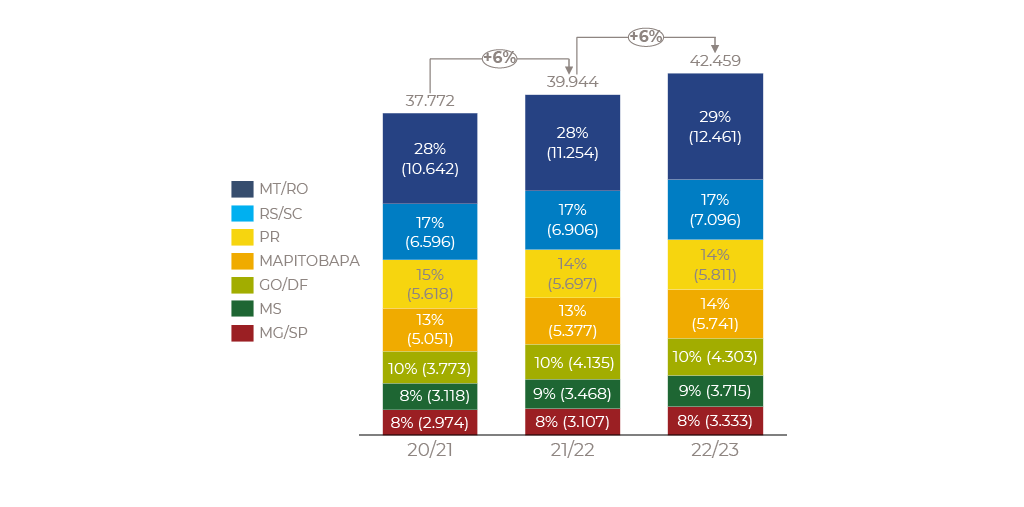 Indications in %. Basis in Cultivated Area (1.000 ha).
Market Importance - Segments
Total Market – Soybean 2022/23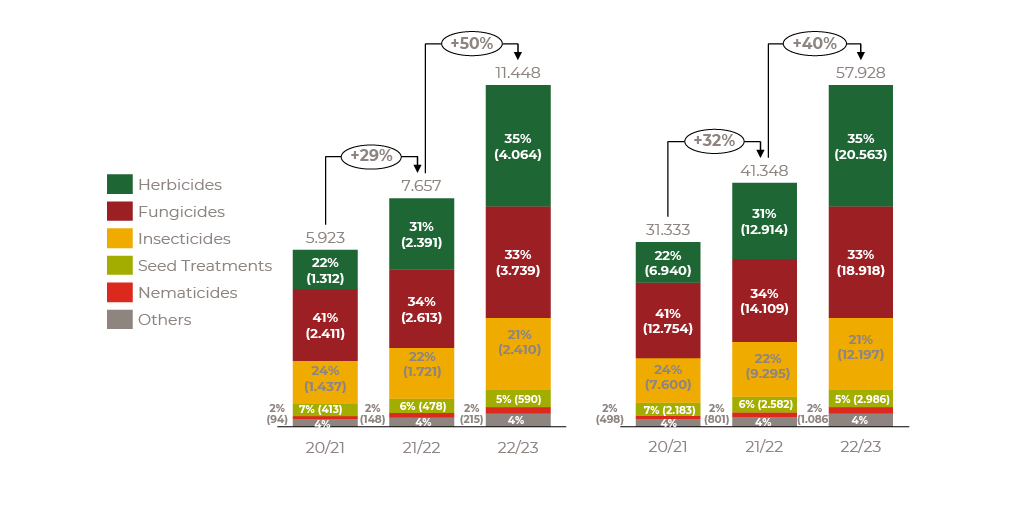 Turnover mi USD and Turnover mi R$
Segmento Evolution – Graminicides
Herbicides – Soybean 2022/2023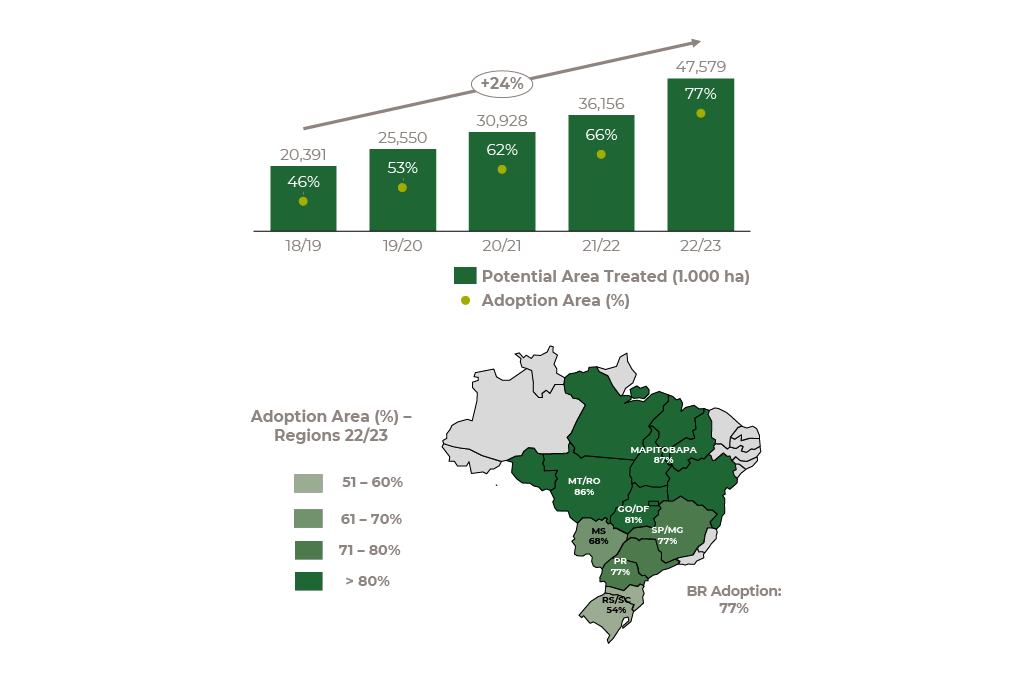 Fungicides and insecticides rank second and third in sales respectively
According to FarmTrak 2022-23, soy fungicides ranked second among the crop protection most applied to oilseeds. Sales totalled ~US$3.7 billion, against ~US$2.6 billion in the previous harvest, a growth of 43%.
The third category in the survey, insecticides, also drove the sector's performance with a 21% share, amounting to US$2.4 billion, compared to ~US$1.7 billion in the previous cycle, a 40% jump.
Additional toolbox support
$1.2 billion was spent on more niche products, likely in an attempt to overcome stubborn disease and pest challenge. Seed treatments, and nematicides have made notable sales.