Thought Leadership
Articles
Feeding tomorrow
Feeding tomorrow: how foresight in data and analytics is changing the landscape of global agriculture
Paul Walker
Paul Walker, COO at Kynetec, talks to Agropages about the place of data and analytics in supporting active decision making in the global crop market, in the face of two seemingly opposed challenges - population growth and sustainable practice.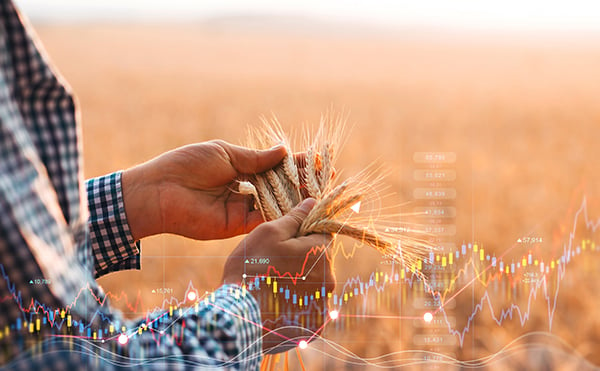 What are the challenges that Kynetec can help to overcome?
We're in the business of providing robust timely data and insights to help our clients solve their customers' problems. While we're one step removed from farming practice, our core knowledge is what is going on, and in, the ground globally.
In the current landscape, very few segments of the value chain are experiencing favorable conditions. Whether you're engaged in seed sales, crop protection, or growing in general, there's a pervasive sense of challenges emerging from all directions. The fluctuating prices of raw materials, spanning from fertilizers to labour, are amplifying production expenses. Weather patterns are bringing drought, flood, pest and weed challenge. Additionally, the prevailing inflationary context is eroding farmers' purchasing capacity, although high levels of inventory have reduced demand for CP products. The urgency posed by environmental concerns like climate change and nutrient discharge is prompting the agricultural sector to question conventional practices – we currently have data from eleven countries to show the increasingly established practice of regenerative agriculture and use of biologicals, both positive disruptors.
Despite all these challenges, farmers around the world continue to grow food for humans and animals to feed our expanding 8+ billion population, and indeed are challenged to grow more, using the same resources. Farm machinery sales are growing in key production markets such as Poland, world leaders in triticale production and second biggest in rye. Machinery registration in the Podkarpackie region saw a 42% growth from 2020 to 2021 and only a slight decrease of 5% between 2021 and 2022.
How can agribusinesses use data in active decision making?
When talking to leadership teams directing the agribusinesses at the centre of these global challenges, my paramount view is to support them in building an adaptive business plan based on farmer-led insight and wider multi-datasource foresight.
Essentially, we support these teams to put data in front of decision making to help our clients to win. For R&D teams looking to develop a new biological crop protection product, our BioLogika online platform provides farmer-driven insights so they can evaluate current agronomic practices, assess R&D opportunities and identify market gaps. This is insightful stuff that goes far beyond the "opinion in the boardroom" where key decisions are often made.

Insight vs Foresight: what should brands expect from data and analytics?
The concept of big data in agriculture is nothing new. For years, the sector has harnessed the power of extensive datasets to inform decisions and enhance outcomes. From weather patterns and soil quality to crop yields and crop protection and seed market trends, the industry has been collecting and analyzing data to optimize operations and increase efficiency.
However, in farming, what happened last year, the year before, or every year for the past twenty years, doesn't mean it is guaranteed next harvest. Kynetec is innovating through this challenge, providing data-based potential outcomes to predict the future as well as learning from the past. Harnessing the power of predictive analytics, through new SaaS offerings such as AgMeta and Interlytics, we offer our clients a unique chance to access forward-looking insights. While we can't go as far as to say "future proofing", these insights enable us to deliver precise forecasting of seasonal demand for seed and crop protection products in alignment with wider market conditions. By transforming data into actionable foresight, and when combined with the knowledge and skilled teams within their agribusinesses, our clients can navigate the complexities of today's agricultural landscape with finesse. With market-leading analytics using custom-built machine learning algorithms for applications to address Ag-related questions, and integrating external data sources, such as pests, commodity prices and land area forecasts, we can help sales, marketing and R&D teams to have a better perspective on what is happening in the market, and why.
How can data and analytics support the challenge of "producing more from the same" at an R&D level in arable production?
As yield pressure becomes more apparent, scenario planning has proven a useful tool to our clients. To cope with comprehending the potential change brought about by climate, precision farming, fluctuating commodity prices, supply chain issues, changing consumer trends and variable interest/exchange rates there's plenty to unpack.
By delivering software with medium and long-term forecasting capabilities, and creating scenarios derived from sources such as IPCC, World Bank/IMF and WTO, brands can comprehend a complete sense of potential outcomes and adjust product strategy accordingly. The opportunity for our clients is to use the data and foresight to develop agronomic solutions that better meet the evolving needs of farmers, such as crop protection products that improve yield and efficiency more sustainably, seed delivering higher yields and improved agronomic traits. In China, for example, the yield volume in rice has increased 6.9% from 2018 to 2022 as shown in FarmTrak data.

How can data and analytics support sustainability goals in the future?
Data and analytics in the area of sustainability must be used to support agribusinesses to help farmers farm more sustainably. It's about enabling agribusinesses to identify on which types of farms and geographies to focus sustainability initiatives, to help them measure if interventions are making a difference, and calculate how much benefits can be claimed in ESG reporting, for example.
Sustainability within our sector is dynamic and interesting, and we're proud to be able to share real-world to cut through opinion pieces. At farm-level, we see in RegenTrak data (our online platform that provides farmer-driven insights on regenerative agricultural practices, including cover crops, tillage, fertilizers and carbon program adoption) that regenerative farming practices are growing; for example, over 50% of US farmers are adopting significant on-farm regenerative practices, despite the initial yield challenge; outweighed by long term increased soil quality, reduced inputs and climate-positive benefits.
Likewise, biopesticides are actively mainstream, and used alongside conventional crop protection for maximum efficiency and efficacy. For example, in Brazil nearly 19 million hectares are treated with bionematicides thanks to the efficacy of the product, and between harvest years 21/22 and 22/23 there's been a more than 300% rise in use of bioinsecticide in corn, targeting the leaf hopper pest, used across 5.5+ million hectares. Biological options are benefiting from a push-pull from both crop protection companies and farmers, and the clearly defined value proposition of cost reduction, effectiveness and environmental benefits is compelling.
I imagine that the future will rapidly bring a combination of conventional, regenerative, and biological practice globally, supported by relevant products able to deliver to the spectrum required – increased food production, better quality food, use of optimum crop protection from an environmental and efficacy standpoint, be it conventional or biological, with razor focus on net zero emission status.