Company
News
Sharing the latest 2023 machinery market insights
05/09/23
Sharing the latest 2023 machinery market insights for the New Zealand Tractor and Machinery Association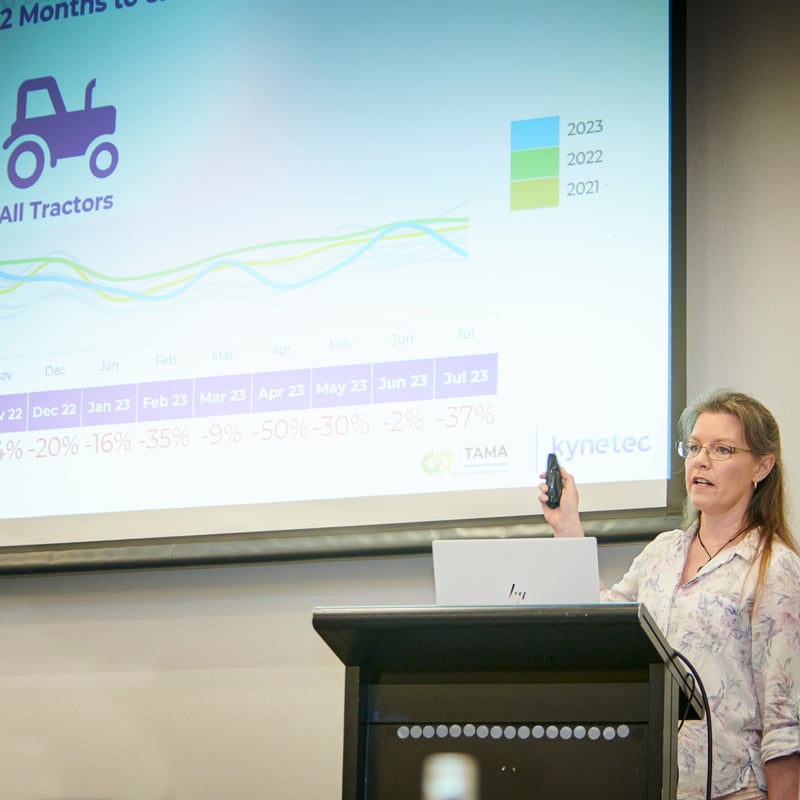 Speaking at the New Zealand Tractor and Machinery Association (TAMA) 2023 AGM and Industry dinner, Melinda Haley, Senior Manager at Kynetec, updated TAMA members with the latest insights on the tractor, baler and farm equipment market.
The rolling 12-month figures to end of July 2023 shows that machinery sales in New Zealand tell a story of sales settling to average levels following considerable growth in 2022.
Quote
12-month data to end of July 2023 has presented machinery sales as expected, following a busy previous twelve months. While not unexpected, it is easy to be deflated by the figures and insights shared by TAMA on first glance. However, when you look at the numbers in context of the wider inflationary environment, and falling milk and stock prices, sales have actually held up well and are comparable to those of 2020.
Melinda Haley, Senior Manager at Kynetec
For example, the 12 months to the end of July 2023 shows a reduction in tractor sales when compared to the same period the previous year. Despite this, the total sales numbers of tractors sold is similar to that of 2020 and 2021, and surpasses the period 2014-17. Horsepower played little part in the reduced sales, with 60+HP sales down only slightly more than smaller engine sizes.

New Zealand's North Island tractor sales reduced by around a third YTD to end July 2023, and South Island down a fifth respectively, although implement sales were up marginally, which can possibly be attributed to the lower cost of these items.

Stepping back and looking at the wider environmental context is helpful. Although land prices have remained relatively stable in New Zealand, the sector is grappling with other challenges. Firstly, inflationary pressures are challenging business models, particularly when combined with a downturn in livestock prices, and a drop in milk prices comparable to 2016 levels. As New Zealand's farming sector is primarily livestock-based, the suppressing effects on these income streams will make cashflow tighter and farmers more cautious when investing in capital items.