Company
News
MachineryTrak
27/07/23
MachineryTrak interactive online platform: The only single source insight into Ag machinery registrations, dealer network coverage and agronomic practices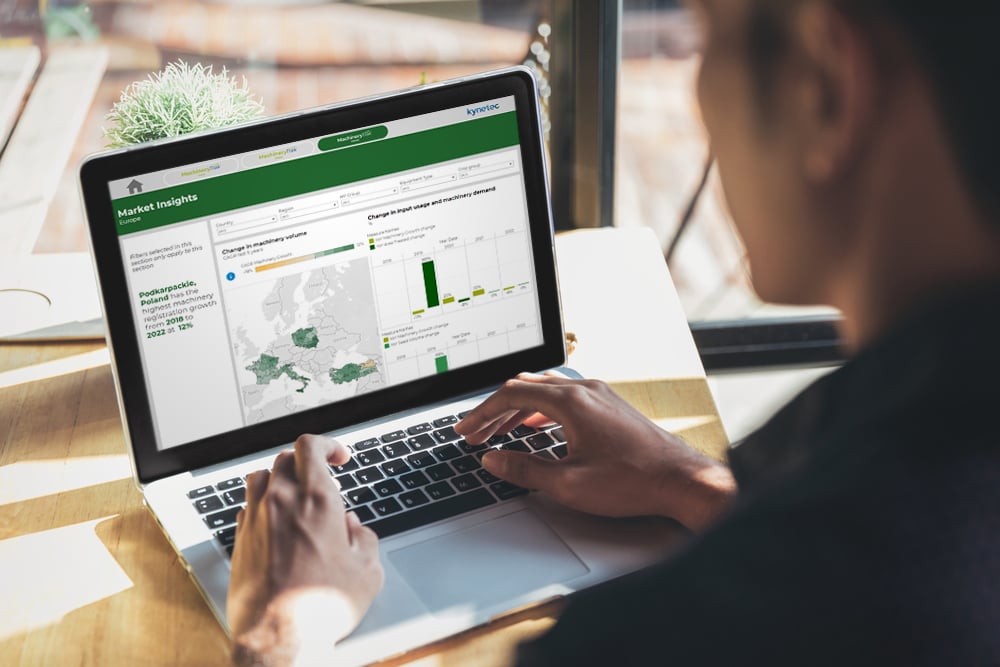 MachineryTrak combines grower survey data on standardized machinery registrations, detailed dealer coverage analysis, and insight into changing agronomic practices to support agricultural machinery manufacturers and dealers with their go-to-market planning and analysis.
This unique mix of farm, market and dealer data provides an outstanding opportunity for brands to create strategy based on insight and trends, amalgamating registration data with evolving agronomic practices and the subsequent impact on sales.
MachineryTrak interactive online dashboards offer an extensive source of farmer-driven data - suitable for use by machinery brands, R&D and marketing teams, or sales leaders.
Subscribers to MachineryTrak dashboards can access insights on:
Market size and shares: total machinery registrations by horsepower, model and brand
New vehicle registrations by country
Dealer coverage: competitive and network density at regional level by brand and dealer
Dealer locations and ownership
Tillage trends by farm size, crop and geography
Crop protection usage and spend
Changes in agronomic practices and farm size impact on machinery selection
Quote
MachineryTrak is a versatile interactive dashboard that enables subscribers to interrogate and view the data in many ways. By getting a handle on new machinery registrations, combined with agronomic trends and dealer network coverage, MachineryTrak is a powerful online dashboard designed to give brands tangible strategic advantage - particularly in the age of digital farming's influence on machinery and agronomic practice.
Belén Valverde, Customer Insights Practice Leader at Kynetec
MachineryTrak is initially available for these markets:
Italy
Poland
France
Turkey
Quote
MachineryTrak supplies insights on these initial markets as Poland has demonstrated significant machinery registration growth, France's unique structure of smaller farms operating as cooperatives, Turkey continues to be an agriculturally focused economy and Italy is an agriculturally diverse nation, reflected in machinery requirements. We will continue to expand our market coverage into other strategically significant markets for our clients.
Belén Valverde, Customer Insights Practice Leader at Kynetec