Company
News
Farmer-driven insights...
29/06/23
Farmer-driven insights into global regenerative ag practices available via RegenTrak online platform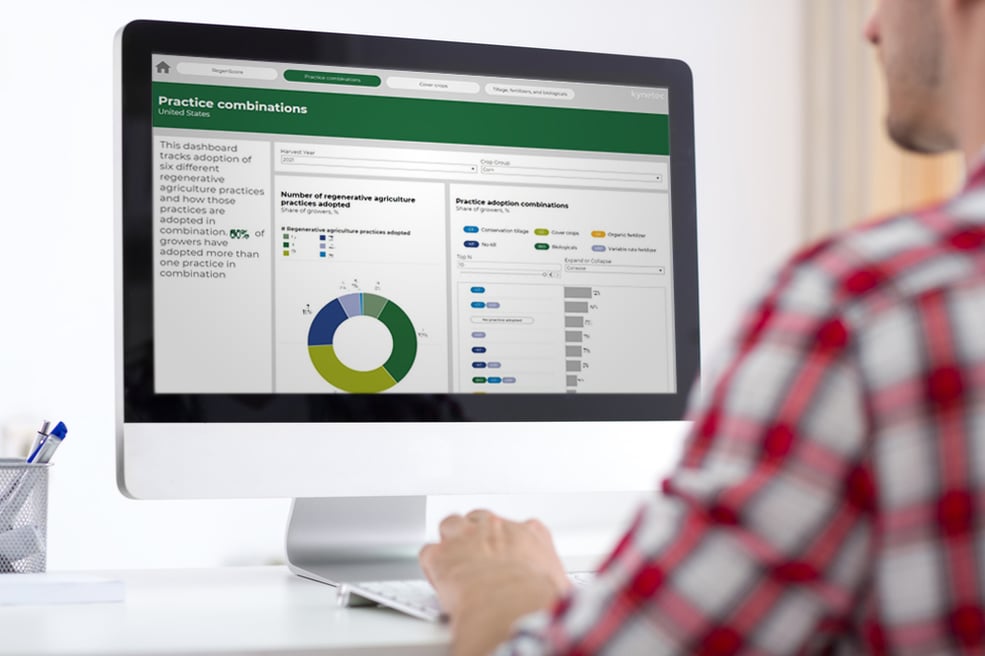 RegenTrak online dashboards are an extensive source of farmer-driven data on regenerative practices - suitable for use by teams involved in sustainability, marketing, and regenerative agriculture initiatives
RegenTrak's powerful, interactive dashboards detail:
Regenerative agriculture: cover cropping, fertilizer use, tillage methods and irrigation
Cover cropping: in-depth farmer data on cover crops, crop protection and fertilizer use
Carbon programs: enrollment size, impact on grower spend
Regenerative agriculture is entering a golden age with both succession farmers and new entrants embracing a more circular approach to land management, utilizing the best of conventional practices to achieve yield as well as reverting to more traditional methods where herbicide and fungicide resistance, soil health and biodiversity can be improved.
But how can brands measure the impact and opportunity of this shift? Kynetec utilized wider FarmTrak data from more than 100,000 farmers who shared in detail their regenerative ag practices. The regenerative ag practice data, from multiple countries across the world, is presented to RegenTrak subscribers as visually appealing, easy-to-use, online dashboards.
Initial market coverage includes:
Argentina
Brazil
France
Italy
Spain
US
RegenTrak allows subscribers to:
Monitor regenerative agriculture practice adoption trends
Identify target customer profiles
Identify where to target carbon programs
Plan cover crop product strategy
Identify drivers of sustainable program adoption
Access RegenScore to understand local regenerative performance
Understand regenerative agriculture impact on product usage
Quote
RegenTrak provides farmer-driven insights on regenerative agricultural practices, at this transitional time in agriculture. To add further value to RegenTrak, the dashboards also provide subscribers with a RegenScore index, a unique and at-a-glance score of local regenerative performance
Jordan Le Roux, Senior Director of Sustainability at Kynetec