Company
News
Farmer-driven insights...
05/07/23
NEW BioLogika online platform offer unique insight into farmer-driven data around biopesticide use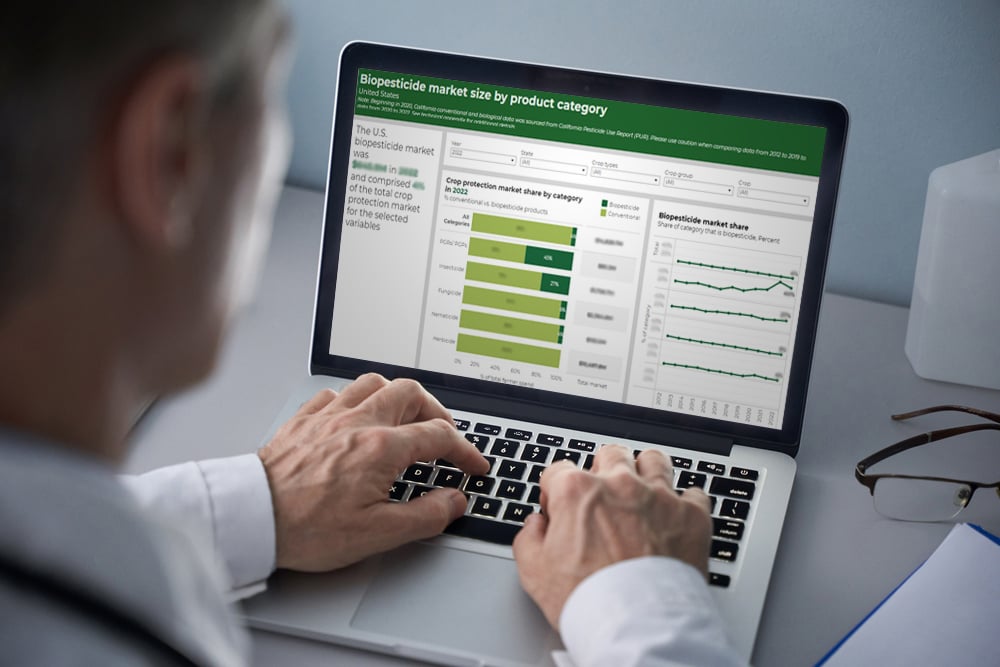 BioLogika is a secure, online platform offering users unique insight into the rapidly scaling global biopesticide market
Globally, growers and farmers are utilizing a toolbox of integrated agronomic solutions, such as biopesticides, in conjunction with conventional crop protection products. Intent on capturing insight into this progressive market for the first time, Kynetec utilized wider FarmTrak data from 100,000 farmers across the US, Brazil and selected EU countries. The data, when combined with Kynetec's world renowned sector expertise, has resulted in the creation of the BioLogika dashboard.
BioLogika easy-to-use dashboards show precise biopesticide on-farm market data including
Market size: location, crop type, market value v conventional
Market potential: rate of conventional product cannibalization by biopesticides, market potential size
Grower adoption: farm size, crop, area treated spend, use type
Product adoption: market scope for product launches
Useful insights into both horticultural and combinable crops
Key crops include:
Wheat
Maize/Corn
Barley
Soybean
Rice
OSR/Canola
Fruit
Potatoes
Vegetables
Phase 1 Markets available:
France
Germany
Hungary
Poland
Romania
US
Brazil
Quote
BioLogika offers subscribers new, previously unavailable data-driven insights. The dashboards are intuitive to use, enabling the data to be interrogated with ease, speed, and flexibility. They provide a rich source of insight for any crop protection or bioag brands, marketing, R&D or strategy teams wishing to make strategic decisions at a transitional time in agriculture. BioLogika phase one launch provides comprehensive insight into biopesticide use across seven countries and all major crops – with the intention to expand into more markets in the future.
Justyna Strug, Senior Director Global FarmTrak Strategy, Kynetec